Queue management - LiveQ & Digi-Q
Manage your queues and enhance customer satisfaction
Queuing is one of the biggest dis-satisfiers in stores, hospitals, banks and government institutions and a structured approach to queuing is being expected by a large number of customers and citizens.
Live-Q is by far the largest and most successful manufacturer and supplier of Live-Q management systems. Our system puts you in control of your customer's experience. It allows you to define the way your team will handle customers when they visit your branch – any of your branches. It allows your whole organization to work in harmony – no matter how large or complex it is.
A Queue Management system from Live-Q helps you organize your queues by providing visitors with virtual and linear queuing solutions, booked appointments or more sophisticated methods like SMS messages.
Its time you looked at Queue Management System complete Customer Experience Platform Like: Streaming Customer Flows, Increasing Productivity, Optimizing resources, Creating new Revenue streams, VIP Customer prioritize.
The Queue Management System redefines customer care to a highly customer centric concept Advanced Queue tunes up your waiting area so that your clients have a pleasant experience throughout by offering them personalized service.
The Queue Management System is practical for facilities that required managing physical queues like Banks, Service Centre Embassies, Airports, Immigration Centers or those with It is also ideal for places that want their customers to catch a breath before serving them like Banks, Hospitals etc. dispersed queues like retails stores.
Some of the major features of our solution are: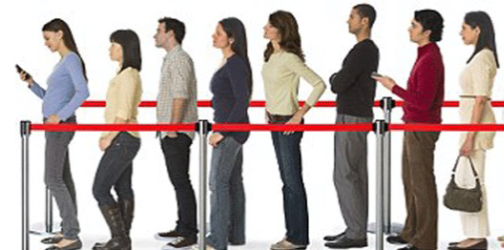 A total range of system covering basic queuing system need to sophisticated, multi branch, multi-region enterprise solutions.
Comes with Lan and cloud capabilities server.
Load Management System
Fully integrated and modern BI system
Software and hardware engineered to work together and proved in thousands of installations.
KEY BENEFITS
Manage and minimize queues to improve efficiency and customer experience.
Gather statistics in our BI system to drive operational excellence.
Improve sales and lower your cost.
Count the number of customers in each queue
Measure average waiting times of customers.
Monitor customer arrival rates.
Assess service point utilization.